It was up to me to raise my four children on my own when my husband left Zimbabwe for South Africa after 15 years of marriage. The businesswoman that came out of this, had been in the making since I was a kid.
When we were young, neither of my parents' job brought much money home, so all of us had to pull our weight. When we weren't in school, my eight siblings and I helped our mother on the field or sold vegetables in our hometown, Nyazura, in rural Zimbabwe. As you can imagine, there wasn't much time for homework, but I always gave a hundred percent in class, and made it all the way throughout secondary school. The day I found out that I passed my O levels, I ran home pretending to be the next Eliud Kipchoge. I couldn't wait to tell my parents that I had passed all my six subjects.
I did not realise it, but by the time I graduated, I had already mastered the skill that would get me out of that impossible situation decades later. I had discovered a passion for sewing and taught myself the basics, with support from my grandmother. When she passed away, my mother inherited her old sewing machine. By 11-year-old, I sew clothes for my doll, and, by 13, I could adjust my older sister's school uniform to fit me. In a way, it is because we lacked the money to buy new uniforms that I improved my skills.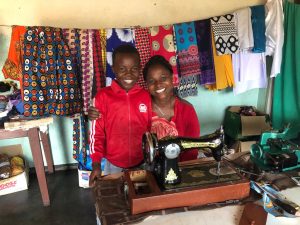 Eager to keep learning, I joined a hairdresser apprenticeship but I didn't make it beyond the first year. I had gotten pregnant with my son and was not allowed to stay in school and had to get married. From that moment my life went downhill. For years I regretted not trying to go back to school even though I felt too ashamed for that. My husband lost his job shortly after we got married. Life became a daily struggle to the point that he decided to leave me.
After he left, my first instinct was to go back home, but that would have been too much of a burden on my parents. They had lost both my sister and my brother to HIV by that time, and they were raising my siblings' five orphaned children. I decided to stay in Rugoyi and put what my grandmother had taught me to good use. I took out a loan, bought cloth and started a business sewing aprons, bed covers, and much more. Things took off quickly. I paid back the loan and started thinking big. Within two years, I was able to move into a business centre. After another year, I hired a seamstress. I used to work with a household sewing machine, but I now own three of them and manage two employees. I am extremely proud of what I have achieved as a single mother, and I enjoy running my very own business.
Zimbabwe is under lockdown due to the coronavirus, but my business carries on. We mainly produce face masks and repair garments. In the future, once the situation improves, I want to purchase premises for my business and buy professional machines that can handle more work. These changes should bring more money in, and I could start buying fabric in bulk. I could eventually hire more employees and get solar panels to power the machines. My list goes on, but truth is, if you don't have a vision, you won't be a successful businesswoman.
As you see, being a single mom doesn't mean that you cannot make it in life. If you nurture your talents, exploit them, do not waste your time in a field that doesn't suit you, and most importantly, don't give up, even when you encounter setbacks.