The most important lesson my parents ever taught me is that there is no limit to my potential as a woman. I have no doubt that I owe my success to the equalitarian education they gave me. It made me self-confident enough to believe that I can succeed at anything I put my mind to. Thanks to these values I can now grow, assert and impose myself in the field of medicine, mostly surrounded by men.
Gender equality isn't a concept that is widespread in DRC, my country. Most people believe that girls are of less value than boys. I have six sisters and one brother; in most Congolese families, this would be perceived a misfortune. I am not entirely sure if my parents felt this way when we were children. Perhaps they did, but refused to feel sorry for themselves. They raised my sisters and I to believe that if we worked hard at school, we could compete with any of the boys. The schools we attended also reinforced this belief. I realise now that we were very privileged to have grown up this way.
Our parents have always pushed us to go as far as possible in our respective careers, so we could contribute to society. That is why my father practically forced me to get into medicine when I announced to him that I wanted to study psychology. He clearly thought that this would have been a waste of my potential and excellent grades. I wasn't motivated but I didn't want to disappoint him either, so I attempted to register for the entry exam at the last minute, but I had missed the deadline. In the end, the university re-opened registrations and I was able to sign up two days before the exam which I managed to pass even without being prepared!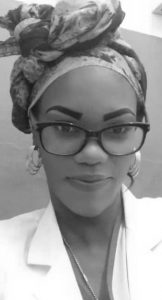 Attending medical school was quite a shock for me. I saw countless students forced to give up because of the poor learning conditions. Lecture halls were overcrowded, with no projectors or air conditioning and the whole campus lacked regular water supply. We also had to share 15m2 rooms between five of us. To make it in this environment, it wasn't enough to have the skills; you also had to be extremely resilient. There were of course moments when I felt doubtful like the others, but I clung hard to the values my parents passed on to me.
After graduating, I joined the Emergency Department of the Kinshasa hospital in 2016. Not to my surprise, all my fellow doctors were men. Many women would have felt intimidated or discouraged but I was determined to prove that I was as good or even better than my colleagues. I worked hard and focused 100% on my patients. My efforts paid off and within two years I got promoted to Assistant Manager. I do at times find it demoralising to listen to those who criticise my appointment. For some it seems hard to accept, let alone to admit that a woman deserves to be in this position, but I try not to let it affect me. Ultimately, what frustrates me the most is not having enough time to think about potential solutions to the challenges we face at the hospital because we are so under-resourced.
Nowadays, many patients come to the hospital and ask to be treated by Dr. Balaka. They are shocked when they find out that I am a woman. Although they always end up judging me only on my abilities, I am hopeful that one day, instead of people being pleasantly surprised to have been cured by a woman, they will see me first and foremost as a qualified and competent doctor.
Dr Balaka: "Je veux que les gens me voient avant tout comme un médecin qualifié"
La leçon la plus importante que mes parents m'ont inculquée est qu'il n'y a aucune limite à mon potentiel en tant que femme. Je n'ai aucun doute sur le fait que je doive ma réussite à l'éducation égalitaire qu'ils m'ont donnée. Elle m'a rendue sûre de moi et de ma capacité à réussir. C'est grâce à ces valeurs que je peux désormais m'épanouir, m'affirmer et m'imposer dans l'univers de la médecine qui est largement dominé par les hommes.
Le concept d'égalité entre hommes et femmes n'est pas répandu en RDC, mon pays. La majorité des gens pensent que la valeur ajoutée d'une fille est bien moindre que celle d'un garçon. J'ai six sœurs et un frère, et dans la plupart des familles Congolaises, cela serait perçu comme une malchance. Pour être honnête, je ne suis pas entièrement sûre de l'état d'esprit de mes parents face à cette situation quand nous étions enfants. Je suppose qu'ils ont refusé de s'apitoyer sur leur sort. Mes sœurs et moi avons été éduquées avec la certitude qu'en travaillant dur à l'école, nous pourrions rivaliser avec les garçons. J'ai conscience que nous avons été privilégiées. Après tout, même les écoles que nous avons fréquentées ont renforcé ces valeurs.
Au-delà de l'égalité des sexes, nos parents ont toujours voulu que nous allions loin dans nos carrières respectives pour nous rendre utiles à la société. C'est pour cela que lorsque j'ai décidé d'étudier la psychologie après le lycée, mon père m'a quasiment forcé à faire médecine. Il voyait mon choix comme un gâchis de mon potentiel et de mes excellentes notes à l'école. Je n'étais pas motivée, mais je ne voulais pas non plus le décevoir, alors j'ai tenté de m'inscrire à l'examen d'entrée à la dernière minute mais j'ai raté la date limite. Au final, les inscriptions ont été ré-ouvertes et j'ai pu m'inscrire deux jours avant l'examen que j'ai passé sans préparation !
J'ai quand même déchanté à l'arrivée à la fac de médecine. J'ai vu tellement d'autre étudiants forcés de renoncer face aux conditions d'apprentissage déplorables. Entre les amphis complètement surchargés, sans projecteurs ni air conditionné, le manque de ravitaillement en eau sur le campus, et le fait de devoir partager des chambres de 15m2 avec quatre autres étudiants, il ne suffisait pas d'avoir les compétences requises pour se maintenir à niveau. Il fallait une motivation en béton. J'ai eu de sérieuses périodes de doutes, mais je me suis toujours raccrochée aux valeurs que m'ont transmises mes parents.
Après avoir obtenu mon diplôme, j'ai rejoint le Service des Urgences de l'hôpital de Kinshasa en 2016. Je n'ai pas été surprise de découvrir que tous les autres médecins étaient des hommes. À ma place, beaucoup de femmes se sentiraient intimidées ou découragées mais j'étais déterminée à prouver que je pouvais faire aussi bien, voir même mieux que mes collègues masculins. J'ai travaillé dur et je me suis focalisée à 100% sur mes patients. Mes efforts ont payé et j'ai été promue Responsable Adjointe du service au bout de deux ans. Bien sûr, ce n'est jamais facile de faire l'impasse des critiques qui ont du mal à admettre qu'une femme ait pu mériter ce poste. J'essaie toujours de ne pas laisser cela m'affecter. Au final, je suis plus frustrée de ne pas avoir suffisamment de temps pour réfléchir à des solutions potentielles aux défis que nous avons à l'hôpital car nous manquons beaucoup de moyens.
Ces jours-ci, beaucoup de patients viennent à l'hôpital et demandent à être traités par le Dr Balaka. Ils tombent des nues en découvrant que je suis une femme. Et bien qu'au final ils ne me jugent que sur mes capacités, j'ai bon espoir qu'un jour, au lieu que les gens soient agréablement surpris d'avoir été soignés par une femme, ils me voient avant tout comme un médecin qualifié et compétent.