Growing up, I was a very shy kid. Whenever the teacher asked me a question, it could take me more than a minute to answer. The other kids in class were much faster, so I felt insecure. This is how I realised that I was a slow thinker. I tried to hide it, but I couldn't keep up the facade. I noticed that some people started to treat me as if I couldn't do anything. This really crushed my self-esteem. My confidence broke down and fear took the driver's seat in my life.
Fear stuck with me from the bumpy roads of primary and secondary school to the busy highway of adulthood. Along the way, I learned that I am not a thinker but a "do-er". I am talented with my hands and love everything to do with beauty. As a professionally trained make-up artist, I got my first job right after graduation. I was happy and stressed at the same time. At work, I was constantly worried that I wouldn't meet people's expectations. I often turned to God for guidance or watched Youtube videos about how to improve my self-esteem. All this pressure got me thinking about being my own boss. One day I just quit and started for myself.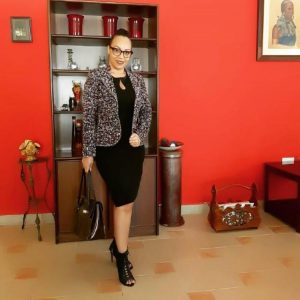 My very first business was called "Make up in a box". It felt liberating to do what I loved at my own pace. Make-up is much more to me than just a job. I recall doing a blind bride's make up. She asked me to make her look so pretty that people would see the amazing woman hidden underneath her blindness. It really is my way of boosting other women's confidence, and it does the same for me. The moment I pick up my brush, the insecurity just fades away because I know exactly what I am doing.
Make up in a box didn't make much money, so I started looking for other opportunities. I saw a Call for Writers for a platform called DreamLink Africa. I loved their concept. They wanted to connect women in Africa to share their stories and dreams. My first thought was, I need to be part of this. But my inner critic also joined the discussion: "you never wrote any stories", "what if you cannot do it". Was fear really going to make me miss out on another opportunity? It took me a while to decide, but eventually I applied.
Three weeks later they called to tell me that I got the job. I could hardly believe it. I proved my inner critic wrong. To my surprise, my story was the first one to go up on the DreamLink website. I slowly started regaining some confidence and several months in, I was actively giving business advice and even became community manager of the platform. When the news came that DreamLink was closing down, I was devastated. I did not want to become the failure people expected me to be. By now I know that fear makes my life difficult, but it won't defeat me. After my job at DreamLink ended, I started selling African prints with success, and gave online beauty trainings to stay afloat during corona. Life is full of challenges, but I keep on pushing, because I trust that the result at the end will be fulfilling.