For most of us who lived abroad, we came back home because we wanted to make a difference, but making that decision wasn't easy. Before I returned, my career was just taking off in America. I had a very good job and to be honest, I had gotten quite comfortable with all the perks that come with living in the developed world. There were no power cuts, the road network was good, and the list goes on. Still, I had felt this deep yearning to return for quite a while. This feeling often brought me back to the times my maternal grandfather would sit us down under the cocoa tree at his house, and tell stories about Ghana's independence, the history of our home town, the need to work but not seek glory and always expressed deep love for his country. These memories make me want to be a complete Ghanaian, giving my all to my country's development. Driven by the strong conviction that I would be able to make a difference, particularly given that I schooled and worked in economic development, I decided that it was time to make the big move.
What I didn't expect was what project would define my return home, once I made the trip. On my return flight to Ghana in 2010, I realised I was the only person I knew who was returning home. And I thought to myself, how nice would it have been if the entire plane was filled with young African professionals like myself, coming back home to apply what we had learnt and to give back to our societies. That is precisely when a new idea started forming in my head. Once I arrived home, I nurtured this thought through several conversations with other young professionals who had also returned. A year later, I organised a lunch with 11 of my friends and pitched my idea to establish a support system for people who had been in the diaspora and returned home. They loved it and Ahaspora Young Professionals was born. In my language Twi, Aha means ''here'' and spora means ''the stem of the diaspora.'' My mum gave me that name when I moved. According to her, I was no longer diaspora but Ahaspora!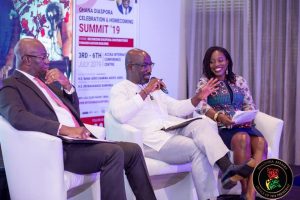 The birth of Ahaspora was kept simple. At the onset, we initiated a listserv where members could ask any question under the sun to aid their transition home. Pointing people in the direction of the local pork joint, or showing them how to find jobs and housing, made coming back home a smoother transition for returnees. Ultimately, my anecdotal research demonstrated that having networks such as Ahaspora, or religious or other social networks really help returnees to get rooted into society quickly, which makes it much easier and enjoyable to stay and give back. Because at the end of the day, despite all the comforts of the West, it will never be our home. We started off with about 50 people and in 2020 have grown into a network of more than 2,000 people, who have come back home to Ghana either temporarily or permanently, as well as people who are still abroad and looking to return.
Ahaspora is one of many ideas that fit into the purpose-driven life I aspire to live. It's been exciting to see Ahaspora grow to become the 'go to' organization in Ghana when it comes to issues of the diaspora and returning home. A variety of key stakeholders and decision makers, both in government and the private sector, are increasingly turning to us when they are looking for input on things that affect the diaspora. Last year, Ghana's President Nana Akufo-Addo, declared 2019 as the Year of the Return to commemorate the 400th anniversary of the arrival of African slaves in America. There were many events like Afrochella and Afronation that brought a lot of vibrancy around returning. That year, we supported the Office of Diaspora Affairs in organising the 2nd Homecoming Summit, and throughout our organization's mission was re-galvanized – the idea of returning home.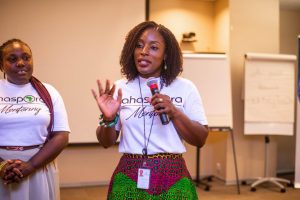 My life is defined by the saying, to whom much is given, much is expected. I have gained a lot by virtue from my parents – the sacrifices they made for me, the ethics, leadership and drive for excellence that they instilled in me – and the key thing for me is to give that back to the next generation. We are doing this through our mentorship program for high school students as well as the support we give to young professionals through Ahaspora.
As of now, my goal is to ensure that the organization can run on its own without me, and at that point, it will be time to possibly start inspiring Ahasporas across the Continent. I am already working in development – poverty alleviation and supporting the most vulnerable is my daytime job – and that will not stop. I don't have concrete plans for what next (past Ahaspora), since I haven't quite entered the exit phase, but I do know that it will be to follow some of my other passions – education, improving livelihoods, ultimately identifying various global problems and finding ways to support them. ''I challenge other Africans to look within themselves and ask – how can I give back where I am? Look at the corner where you are, the niche in which you operate – wherever you are, if you have an idea, don't overthink it, JUST DO IT.''